November 1-3, 2010. Moscow.
International Nanotechnology Forum RUSNANOTECH 2010
On November 1-3, 2010, the III International Nanotechnology Forum RUSNANOTECH 2010 was held in the Expocentre on Krasnaya presnya street in Moscow. The Forum program consisted of a business part and Science and Technology sections. World well known scientists, heads of the largest companies and famous politicians took part at this Forum.
As a part of the event, there was an exhibition of the newest developments in the fields of nanotechnology.
FSBI TISNCM participated in the exhibition and in the Science and Technology sections of the Forum. TISNCM presented its single-crystal diamond product samples and scanning probe nano-hardess testers: "NanoScan-3D", "NanoScan-compact" and "NanoScan-Mini".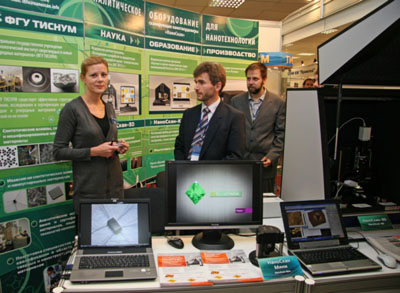 Also "Nano-Scan compact" (the device being developed featuring specialists from National Research Nuclear University MEPhI) was presented on the exhibition booth of the State Atomic Energy Corporation ROSATOM as a part of the educational and methodical complex.
Exhibits of the Department of Physical and Mechanical Properties Research and the Department of Single-Crystal Growth, became a part of the composition of the shared-use stand of the Ministry of Education of the Russian Federation.